What to wear in Egypt
Egpyt the home of the ancient Pharaohs: Egypt is a wonderful country and Egypt has so much for travelers to see and do, it's the perfect country for a mix of activities combining culture, adventure, and relaxation.
---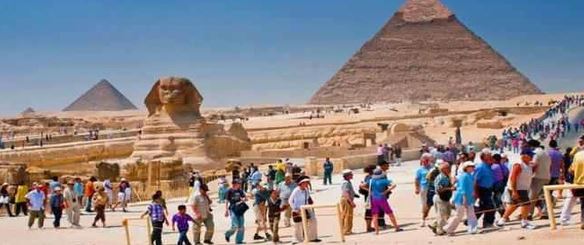 ---
Egypt packing list
Egypt is a hot country and the laundry service is extremely cheap, so I recommend you stay away from overpacking and just pick a small suitcase. Here is what you need to pack for your Egypt vacations:
A) Clothes to wear in Egypt
Do remember that you will sweat quite a lot, there's a lot of sand/dirt in the temple ruins, and also remember that sunscreen (mixed with sand) can leave ugly yellow stains on your clothes not easy to remove. So, rather pack a spare or two. And remember to bring at least one smart casual outfit for visiting mosques/good restaurants.
Shorts or short skirts as you see fit (covering the knee, if possible)
A couple of T-shirts
At least one shirt, blouse, or smart looking top
One pair of long trousers
A veil/shawl (women only; you can buy it at most souvenir shops as well)
Swimsuit or bathing suit
Note: You probably won't need shorts when visiting in winter. Rather pack a light jacket instead. You will need it in the evening. Also, some places will be air-conditioned quite heavily.
B) What shoes to wear in Egypt?
Muhammad Ali Mosque in Cairo: Long trousers and white shirt
Picking the right kind of shoes for Egypt is sort of tough. Again, the hot climate and local traditions are sort of in conflict. You'll probably have to pick a middle ground. Also, know that the ground in most temples and around the pyramids is not even, usually quite sandy with rocks in between. High heels won't get you far. Instead, bring:
Comfortable light walking shoes. Trekking sandals can be a very good option (I'm using these Teva sandals | women's version
Sandals as you see fit.
Beach shoes or flip-flops; the sand will be too hot to walk on. I'm using Adidas ClimaCool Water Shoes, though the ground underwater is usually not rocky or dangerous.
One pair of closed shoes/leather shoes
Socks – you are not allowed to wear shoes in Mosques. Decide for yourself if you want to run around barefooted or not – it certainly won't kill you ;-)
Note: Due to the extremely hot ground, it is not uncommon for the glue of your shoes to melt (happened to me more than once). It might be a smart idea to bring spare sandals/flips flops along.
C) Electronics
In Egypt the supply voltage is 220 V. There is either a Type C or a Type F socket. Please do check the electronic devices you will want to bring before visiting (there always is an appliance rating plate that tells you).
Visitors from the US or the UK will need a Power adapter; Buy an international one you can use on your next trip
If your electrical appliances do not support dual voltage or 220 V, you will need a step-down converter. This one is cheap and does the job
Camera, SD cards, and battery charger
Kindle Paperwhite or any other e-reader (you might spend quite some time on tour buses or beach :P)
D) Toiletries & Medicine
Pharmacies or drug stores can be a bit harder to spot in Egpyt, though most hotels will usually be able to provide you with the most important medicines in case of an emergency. That being said, diarrhea is a MAJOR issue in Egypt. Definitely stick to "peal it, cook it, or leave it". Don't drink fresh juices or anything with ice cubes (except they only use filtered water and you REALLY trust them; I wouldn't!). Do bring:
High SPF sunscreen (I love the Neutrogena Wet Skin Spray; especially for days on the beach)
After-sun lotion (you'll thank me later); I use the Nivea After Sun Lotion
Something strong against diarrhea (do consult your doctor)
Diarrhea prophylaxis (Perenterol is a very good choice; start 7 days in advance)
Sanitizing gel & hand wipes
Painkillers (I really can't cope with air conditioning; sunstrokes are a possibility as well)
Blister plasters (your feet will sweat a lot; I love Compeed)