Egypt pyramids tour – what to see, when to visit and where to stay
Egypt pyramids tour – Egypt Tourist Visa: Are you dreaming of a tour to the Pyramids in Egypt? Are you wondering about the best time to visit and if it is safe? Then this guide is all you ever have to read.
---

---
How to visit the Egypt Pyramids of Giza Online
The Pyramids of Giza near Cairo, are both the oldest ancient World Wonder and the only one to survive the ages (almost) unscathed. There are so many tours to the pyramids in Egypt, it's quite easy to lose count. Some outrageously expensive and some dead cheap, you are wondering how they make a profit at all. You can easily visit them on your own just like the rest of Egypt. (check out my 14 days itinerary to learn how)
Facts about the Great Pyramids of Giza in Egypt

---
Great Pyramids of Giza
The Great Pyramids of Giza are not located in Cairo itself, but, as the name indicates, in the suburb of Giza. They are not the only pyramids in Egypt. Archeologists uncovered a total of 138 in Egypt, and this doesn't cover the ones in Sudan – but none of them are as big as the ones in Giza (still, absolutely read my guide to amazing Step Pyramid of Djoser). Either way, here are some quick facts:
Completed in 2560 BC (Old Kingdom)
Maximum height: 138,8 meters (originally 146,7m)
Length at the base: 230,34 meters
Burial monument of Pharaoh Khufu (sometimes "Cheops")
Inside: 2 Chambers (+1 unfinished subterranean chamber)
Material: Built of around 2.3 million blocks of limestone & granite
Distance from Cairo center: ~18 kilometers
Distance from Cairo airport: ~55 kilometers
Opening hours: 8 am 5pm (October – March); 7 am – 7 pm (April – September)
Touring the great pyramids of Giza
Your tour starts at the parking lot in front of the main entrance. The whole Giza plateau is fenced in and not accessible without a ticket. Tickets are sold at the entrance and there is no need to book them in advance through a tour agency. If you want to go inside the Great Pyramid of Khufu you should know that only 150 people are allowed inside during the morning shift and another 150 in the evening.
Ticket price for the Pyramids of Giza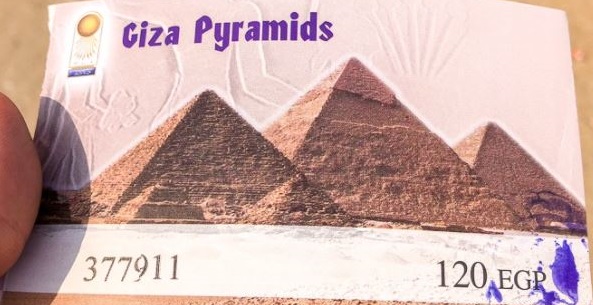 ---
The ticket office in front of the Pyramids of Giza
You got a couple of ticket options for touring the of the great pyramids of Giza. The standard ticket will only allow you to walk around the whole plateau and entering the three Queen's Pyramids, while you will need an extra ticket to go inside the Pyramids of Khafre and Khufu.
Giza Pyramids ticket price: 80 EGP for adult
Pyramid of Khufu ticket price: 300 EGP
Pyramid of Khafre & Menkaure: 50 EGP
Solar barge /Khufu Ship: 60 EGP
Tomb of Meresankh II ticket price: 900 EGP
Camel ride (tickets not sold at the ticket booth): Expect 100 EGP
Start your tour at the Pyramid of Khufu
It is only a short walk from the main entrance to the imposing Pyramid of Khufu. Be wary of souvenirs and camel rides offered to you right after the entrance (just ignore them and say "no, thank you") – especially when more than one Egyptian approaches you. Also, don't hand your camera to one of them offering to take a picture of you (instead, ask a fellow European/American).
Guides may bring their car inside, and actually, it will be quite strenuous to explore the whole area on foot. Though, it is always possible to hire a camel ride. There isn't actually a lot to do around the area. Just marvel at the sheer imposing size and take your time taking pictures. The ground is mostly sand and bigger stones, with some paved areas in between, so sturdy walking shoes or sandals (if you don't mind the sand) are recommended.