How do I get a Burundi visa?
Visas are required for foreign citizens traveling to Burundi. Foreign nationals may apply for a visa online in advance of travel. Applicants may complete the e-visa application form and make payment online with a credit card or bank transfer
---

Step 1: Start Application
Submit the simplified Burundi visa application. It takes less than 5 minutes to complete. It is an easy process.

Step 2: Review and Pay
Our visa experts review your provided information if it all matches the Burundi visa application requirement.

Step 3: Receive visa via email
Once your Burundi Visa application is lodged we will send you a confirmation email with all necessary details.
Burundi Visa Information
All visitors to Burundi, unless they come from one of the visa-exempt countries mentioned below, must obtain a visa from one of the Burundian diplomatic missions before entering the country. Until 30 April 2015 citizens of all countries entering Burundi through Bujumbura International Airport were able to apply for a visa upon arrival. However, they were then required to obtain a visa in advance. In October 2015 it was announced that the visa on arrival for 3 months at Bujumbura airport would again be available to foreign visitors. An Entry Authorisation letter issued by the authorities of Burundi is now required to obtain a visa on arrival.

Burundi Visa online application?

By starting the application, you must complete the Burundi Visa application form and include the processing documentss

How can I get Burundi Visa?

All foreign visitors to Burundi must obtain a visa from one of the Burundian diplomatic missions before entering the country.

Applicants passport must be at least 6 months validity from the date of arrival in Burundi and have at least two page available for stamping.
Burundi Visa Requirements
Passport valid for at least six months from arrival date
Applicant recent face photograph, passport-style
International passport biopage
Proof of Accommodation
Travel Itinerary
Minor Consent Letter (if applicable);
Yellow Fever Certificate check with WHO website
Burundi Visa validation?
The Burundi visa is usually valid for 3 months from the date of issuance for either a single or multiple entries. The duration of stay is a maximum of 30 days per entry.
Burundi Visa extension?
Once in Burundi, you can go to the Immigration Office in Bujumbura, and apply for visa extenstion.
Burundi Visa on arrival policy
Passengers with a diplomatic passport can obtain a visa on arrival for a maximum stay of 30 days.
Passengers with an Entry Authorisation letter issued by the authorities of Burundi before departure can obtain a visa on arrival for a maximum stay of 1 month.
Nationals of Comoros, Congo DR, Djibouti, Egypt, Eritrea, Eswatini, Ethiopia, Kenya, Libya, Madagascar, Malawi, Mauritius, Rwanda, Seychelles, Sudan, Uganda, Zambia and Zimbabwe with a passport issued by COMESA can obtain a visa on arrival. They must be traveling on duty.
Burundi Transit Visa policy
Passengers with a confirmed onward ticket for a flight to a third country. They must stay in the international transit area of the airport and have documents required for the next destination.
The Burundi Visa exemption
Citizens of the following 6 countries can visit Burundi without a visa for up to 3 months: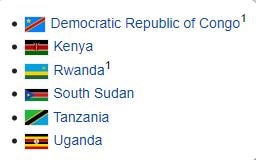 Also for Economic Community of the Great Lakes Countries laissez-passer holders.
Holders of diplomatic passports of Turkey and diplomatic and service category passports of Brazil, China and Russia do not require a visa. Holders of passports for public affairs of China do not require a visa.
A visa waiver memorandum was signed with the United Arab Emirates in January 2019 but it is not yet in force
Burundi Visa Costs | Burundi Visa Check
Pre-Approved Multiple Methods of Payment Amex, Visa, JCB, Mastercard, Unionpay etc
Our professional travel assistance services include: support and submission of your visa apppcation to immigration, providing information regarding apppcation status and results via email or similar types of communication.
---
Burundi Government Fee
---
Single Entry Visa $70e
Multiple Entries $90
Transit Visa $40
---
africatourvisa service Fee
€50.00 Euro
Frequently Ask Question Burundi Business eVisa