How do I get a Algeria visa?
Visas are required for foreign citizens traveling to Algeria. Foreign nationals may apply for a visa online in advance of travel. Applicants may complete the e-visa application form and make payment online with a credit card or bank transfer
---

Step 1: Start Application
Submit the simplified Algeria visa application. It takes less than 5 minutes to complete. It is an easy process.

Step 2: Review and Pay
Our visa experts review your provided information if it all matches the Algeria visa application requirement.

Step 3: Receive visa via email
Once your Algeria Visa application is lodged we will send you a confirmation email with all necessary details.
The Algeria Visa information
The Algeria Visa allows travelers to enter the Algeria for tourist or business purposes, this Visa is valid for 120 days after arrival. The maximum length of stay in Algeria is 30 days Total. To apply for Algeria Visa You must hold a valid passport with at least 2 blank pages and a minimum of 6 months before expiration. Algeria tourist or business visa must be used within 60 days from the issue date. When applying by courier service, please make sure you indicate the date of entry on the application form. and fill up the whole application correctly.
Algeria Visa policy
The Algerian Embassy declines any responsibility for the loss of documents sent by courier service. Applicants should make travel arrangements to Algeria based on the date of entry indicated on their visa. Applicants should not arrive in Algeria before that date.
Where Can I Submit an Algeria Visa Application?

You must apply for an Algerian visa at the Algerian embassy or consulate which is responsible for your region – the one in your country or one nearest to you if there is no Alegrian diplomatic mission in your country.

What Are the Algeria Visa Fees?

There is no standard set of Algeria visa fees which are uniform for everyone. The fees for Algerian visas differ based on the type of visa you're applying for (single-entry/multiple-entry, long-stay/short-stay) as well as the Algeria consulate or embassy handling your application.
Algeria Visa Requirements
Original Passport, with validity for minimum 6 months;
Visa Application form duly completed and typed clearly (in triplicate);
three coloured passport-sized photos, pasted on visa forms;
Copy of two ways flight booking;
Permanent Residency Card (KITAS) for Non Indonesian, Singaporean or Bruneian;
Algeria Visa validation?
The duration of an Algeria visa depends on the reason you are travelling. If you are applying for an Algeria tourist or business visa, the duration is usually a maximum of 90 days. The date when you can enter Algeria and the amount of days you are allowed to remain in the country is stated on your visa.
Algeria Visa extension?
Yes, it is possible to extend an Algeria visa beyond the date of its original issuance. You must apply for an Algeria visa extension at least 15 days before your current visa expires at the The Foreigners' Office (Bureau des Étrangers) in Algeria and have a valid reason as well as an invitation from someone in Algeria.
---
Types of Algeria Visa
There are usually three types of Algeria Visa can be apply to enter Algeria, which are Business Visa, Tourist Visa and Working Visa, the difference based on the purpose of visit:
Business Visa:

Business visa, for engaging in commerce in the country. These visas generally preclude permanent employment, for which a work visa would be required. Business Visa (Short Stay) Holders of a Business Visa are not allowed to work

Business visa requirements
1-Invitation or sponsorship letter from a company based in Algeria.
2-Letter from your own company or mission order
Tourist Visa
Tourist visa, for a limited period of leisure travel, no business activities allowed.
Tourist visa requirements
1-Accomodation Certificate duly certified by Local Authorities in Algeria(Certificat d'hebergement legalisé par l'APC ).
2-Or a confirmation of a Hotel booking.
3-Or invitation from an Algerian Travel Agency
4-Confirmed return ticket
Notice: If you are planning to visit southern Algeria (Sahara), please provide itinerary details including approximate dates and cities to be visited, as well as an invitation from an Algerian Travel Agency.
Family Visit:

Family member visa, for other members of the family of a resident or citizen of a given country.

Family Visit requirements
A-Accommodation certificate duly certified by Local Authorities in Algeria ( Certificat d'hebergement legalisé par l'APC), if the Algerian spouse is not registered at the Embassy.
B-Copy of the Consular Registration Card of the Algerian spouse.
C-Copy of the marriage certificate.
Work Visa
Work visa requirements
The work visa is issued to foreign nationals holders of a provisional work authorization (APT) delivered by the services in charge of employment in Algeria and a certificate issued by the relevant services in which the employer certifies to undertake full financial responsibilities for repatriation of their foreign workers upon completion of their work contract.
Temporary Work Permit (Autorisation Provisoire de Travail) issued by the Ministry of Manpower of Algeria and Letter of Engagement of Repatriation (Engagement de Rapatriement) issued by the Employer in Algeria
The Algeria Visa eligible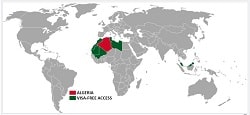 ---
---
Algeria Visa Costs | Algeria Visa Check
Pre-Approved Multiple Methods of Payment Amex, Visa, JCB, Mastercard, Unionpay etc
If you have not received a copy of your visa in five business days, please contact us immediately. However, make sure you go through your junk or spam filters first as well as any third party email filtering software.
---
Algeria visa fee pay at arrival
US$120 or €$110.846
Netafri.com service Fee
€50.00 Euro
---
---
Frequently Ask Question About Algeria