How do I get a Sierra Leone?
Visas are required for foreign citizens traveling to Sierra Leone. Foreign nationals may apply for a visa online in advance of travel. Applicants may complete the e-visa application form and make payment online with a credit card or bank transfer
---

Step 1: Start Application
Submit the simplified Sierra Leone visa application. It takes less than 5 minutes to complete. It is an easy process.

Step 2: Review and Pay
Our visa experts review your provided information if it all matches the Sierra Leone visa application requirement.

Step 3: Receive visa via email
Once your Sierra Leone Visa application is lodged we will send you a confirmation email with all necessary details.
Sierra Leone visa on arrival information?
All foreign visitors to Sierra Leone must obtain a visa or a visa on arrival for tourist, business or visiting, unless they come from one of the visa exempt countries. Sierra Leone visa: It is valid for only one month but can be extended at the immigration department once in-country. And It allows only one entry into the country, meaning that it cannot be used to leave and re-enter the Sierra Leone.
Sierra Leone visa application form
Sierra Leone Visa application can be done faster 100% online. You can apply from anywhere and anytime through a phone or PC. Applicants passport must be at least 6 months validity from the date of arrival in Sierra Leone and have at least two page available for stamping.
How can I apply for a Sierra Leone visa?
Applying for a Sierra Leone eVisa is very simple and can be done 100% online. You are able to apply online or you'll have to apply by post. If there is no Sierra Leone representation in your country, you can always apply online.
Sierra Leone visa exemption
All citizens of ECOWAS can visit Sierra Leone without a visa. An agreement between Sierra Leone and Saint Kitts and Nevis on mutual visa-free visits for 90 days was signed in February 2017 and is yet to be ratified
Sierra Leone visa cost
The fees may differ slightly from one country or currency to the next. The Sierra Leone visa fees are as follows: ...
Sierra Leone Visa Requirements
Passport valid for at least six months from arrival date
Applicant recent face photograph, passport-style
International passport biopage
Proof of Accommodation
Travel Itinerary
Proof of sufficient financial means.;
Minor Consent Letter (if applicable);
Yellow Fever Certificate check with WHO website
Sierra Leone Visa validity
The Sierra Leone landing visa is valid for entry anytime within 3 months and for stays of up to 1 month.
Sierra Leone Visa extension
On entry into the Sierra Leone, visitors are normally granted a period of one month ONLY but this can be extended at the immigration department on the approval of the Chief Immigration Officer for one of the following reasons.
Searching for business opportunities
Staying for a further period as visitors/tourist
Sierra Leone eVisa types
In March 2019 it was announced that Sierra Leone is going to invest into development of an electronic visa system. As of 2020, it is possible to apply for an eVisa online, for stays of 30 days within a 90 day period
Re-Entry Visa
This visa is issued at the departments in Freetown to non-citizens who regularly visits the country. It is issued for a specific period (up to a year) and enable holders to travel as many times as they want during this period.
Sierra Leone visa exemption policy
Citizens of the following 15 countries can visit Sierra Leone without a visa:
Benin, Burkina Faso, Cape Verde, Côte d'Ivoire, Gambia, Ghana, Guinea, Guinea-Bissau, Liberia, Mali, Mauritania, Niger, Nigeria, Senegal, and Togo
Sierra Leone Visa for Non-ordinary passports

A maximum stay of 1 month without a visa is allowed for holders of diplomatic and service passports issued to nationals of Iran and for holders of diplomatic, service and public affairs passports of China. Visa waiver agreement for diplomatic and service passport was signed with Rwanda in August 2019 and it is yet to be ratified.
Sierra Leone Visa on arrival policy
Citizens of the following countries can obtain a visa on arrival
Only IATA lists Armenia, Azerbaijan, Belarus, Georgia, Kazakhstan, Kyrgyzstan, Moldova, Tajikistan, Turkmenistan, Ukraine and Uzbekistan as countries whose citizens are eligible for visa on arrival while the official public notice of the Sierra Leone Immigration Service makes no mention of those countries
The Sierra Leone Visa map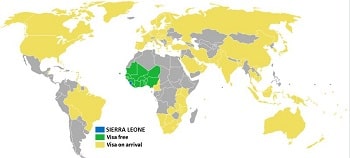 Sierra Leone Visa Costs | Sierra Leone Visa Check
Pre-Approved Multiple Methods of Payment Amex, Visa, JCB, Mastercard, Unionpay etc
If you have not received a copy of your visa in five business days, please contact us immediately. However, make sure you go through your junk or spam filters first as well as any third party email filtering software.
---
Sierra Leone Visa Fee
---
African Union countries (fee – $25)
---
Non – Africa Union countries (fee – $80)
---
africatourvisa service Fee
€50.00 Euro
---
Ask Question Sierra Leone visa on arrival