How do I get a Zimbabwe visa?
Visas are required for foreign citizens traveling to Zimbabwe. Foreign nationals may apply for a visa online in advance of travel. Applicants may complete the e-visa application form and make payment online with a credit card or bank transfer
---

Step 1: Start Application
Submit the simplified Zimbabwe visa application. It takes less than 5 minutes to complete. It is an easy process.

Step 2: Review and Pay
Our visa experts review your provided information if it all matches the Zimbabwe visa application requirement.

Step 3: Receive visa via email
Once your Zimbabwe Visa application is lodged we will send you a confirmation email with all necessary details.
Zimbabwe Visa information
Zimbabwe Visa Online It is an electronic authorization granted by Zimbabwe immigration to eligible foreign visitors, allowing them to enter, remain within, or leave Zimbabwe. Zimbabwe Visa typically can be used for a tourist visa, Business visa and visiting purposes and may include limits on the duration of the foreigner's stay.
---
Zimbabwe Visa Application
The Zimbabwe visa application form should be completed on-line and include a copy of the passport data page, the date of validity of at least six months and a color photograph.
---
Zimbabwe e-Visa validity
Visitors are typically being given entry permission for 30 days but you should check that the number of days given at the port of entry covers your intended period of stay. You can strong>apply to have this period renewed and extended if required. It's illegal to give a false statement in support of a visa.
Can I apply for a Zimbabwe Visa
It is no longer possible to get a visa from the Zimbabwean Embassy, all visitors who intend to visit Zimbabwe with eVisa/Visa can easily apply for visa through Phone or PC anytime from anywhere. Make sure you travel with the correct documentation otherwise you risk arrest and deportation.
Zimbabwe e-Visa Requirements
---
Applicant Photo
Copy of Travel passport biopage
Proof of accommodation in Zimbabwe
Travel Itinerary
Supporting letter e.g. letter from company or invitation letter for business/family visits.
Yellow Fever Certificate Check WHO website for more information

---
Zimbabwe e-Visa
Foreign nationals may apply for a visa online in advance of travel. Applicants may complete the e-visa application form and make payment online
Zimbabwe Visa extension
Citizens from all over the world visit Zimbabwe be it for tourism, business or to visit family and friends, you can apply to extend their visa every month for another 30 days each month for up to 12 months at the Immigration Office in Harare (or in other towns around Harare). However after the first 90 days when the extension is free you have to pay $20 each time to extend and after 6 months the fee goes up to $100.
Types of Zimbabwe eVisa/Visa
Single Entry visa allows for entry into Zimbabwe one time. Once you exit Zimbabwe, the visa cannot be used again.
Double Entry visa allows for up to two entries into Zimbabwe. Valid up to 90 days from the date of issue. Once you have used it for the two entries and two exits, the visa cannot be used again.
Multiple Entry visas - CANNOT be obtained at the port of entry into Zimbabwe. You may enter Zimbabwe on a single entry visa and then obtain a Multiple Entry Visa from the town office - but this may take up to 7 working days to be issued and in many cases is declined - if you need to enter 3 or 4 times rather buy a single entry and then a double entry visa or two doubles, which is a perfectly accepted by immigration.
Foreign citizens may apply for all types of visa (tourism, business, residence and study) online through the eVisa system. Visa fee can be paid online or on arrival. It takes an average of two working days to obtain an e-Visa. However the period may vary due to a number of factors. The Zimbabwe e-Visa is valid for three months from the date of issue.
Children
: As of June 2012 - Zimbabwe will now be charging FULL VISA fees for any individual who is required to have a VISA despite their age. This includes infants and children who were previously being exempted from this. This has been imposed with immediate effect.
Visitors to Zimbabwe must obtain a visa in advance, either from one of the Zimbabwe diplomatic missions or online. It may be used to enter at one of the following crossings:

1, Beitbridge
2, Harare International Airport
3, Kariba
4, Plumtree
5. Chirundu
6. Nyamapanda
7. Joshua Mqabuko Nkomo International Airport
8. orbes - Mutare
9. Victoria Falls
Zimbabwe Visa Policy
Travelling with children to,
from and through South Africa
If you're travelling with children to, from or through South Africa, see our South Africa travel advice page for information and advice about the documents you'll need to carry.
Notice: Zimbabwe and Zambia introduced a universal visa on 28 November 2014 called KAZA Visa. This visa can be obtained on arrival and is valid for both countries for visits up to 30 days while remaining within Zambia and Zimbabwe (including day trips to Chobe National Park in Botswana at Kazungula). In second phase Namibia, Angola and Botswana are expected to join the project. In third stage three SADC pilot countries are expected to join and in fourth stage all SADC countries are expected to become part of the universal visa projec

The universal visa project was suspended in 2015 due to running out of visa stickers and the expiry of the Memorandum of Understanding between the two countries. The new Memorandum was signed in December 2016, extending the list of eligible countries (including territories) from 40 to 65. In Zimbabwe it is issued at Kazungula, Victoria Falls, Zimbabwe, Harare International Airport and Victoria Falls Airport border crossings.
The Zimbabwe eVisa Eligible Countries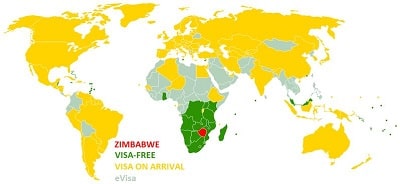 Pre-Approved Multiple Methods of Payment Amex, Visa, JCB, Mastercard, Unionpay etc
If you have not received a copy of your visa in 7 business days, please contact us immediately. However, make sure you go through your junk or spam filters first as well as any third party email filtering software. Contact support@netfri.com
---
Zimbabwe Government Fee
---
Single US$30.00 + service fee 50.00€/$
---
Double Entry $45.00 + service 50.00€/$
---
Multiple $55 + service fee 50.00€/$
Frequently Ask Question Zimbabwe e-Visa