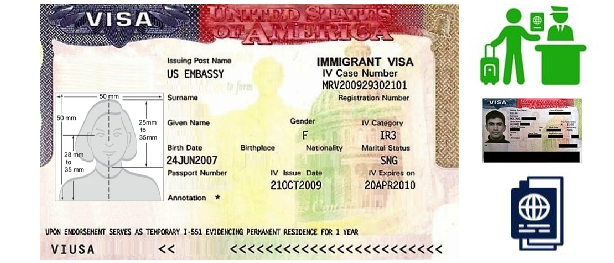 What is a visa
A visa (from the Latin charta visa, meaning "paper that has been seen") is a conditional authorization granted by a territory to a foreigner, allowing them to enter, remain within, or to leave that territory. Visas typically may include limits on the duration of the foreigner's stay, areas within the country they may enter, the dates they may enter, the number of permitted visits or an individual's right to work in the country in question. Visas are associated with the request for permission to enter a territory and thus are, in most countries, distinct from actual formal permission for an alien, to enter and remain in the country. In each instance, a visa is subject to entry permission by an immigration official at the time of actual entry, and can be revoked at any time. A visa most commonly takes the form of a sticker endorsed in the applicant's passport or other travel document.
Historically, immigration officials were empowered to permit or reject entry of visitors on arrival at the frontiers. If permitted entry, the official would issue a visa, when required, which would be a stamp in a passport. Today, travellers wishing to enter another country must often apply in advance for what is also called a visa, sometimes in person at a consular office, by post, or over the internet. The modern visa may be a sticker or a stamp in the passport, or may take the form of a separate document or an electronic record of the authorization, which the applicant can print before leaving home and produce on entry to the visited territory. Some countries do not require visitors to apply for a visa in advance for short visits.
Visa applications in advance of arrival give countries a chance to consider the applicant's circumstances, such as financial security, reason for travel, and details of previous visits to the country. Visitors may also be required to undergo and pass security or health checks upon arrival at the port of entry. Some countries require that their citizens, as well as foreign travellers, obtain an "exit visa" to be allowed to leave the country.
Uniquely, the Norwegian special territory of Svalbard is an entirely visa-free zone under the terms of the Svalbard Treaty. Some countries—such as those in the Schengen Area—have agreements with other countries allowing each other's citizens to travel between them without visas. The World Tourism Organization announced that the number of tourists requiring a visa before travelling was at its lowest level ever in 2015
Visa History

In western Europe in the late 19th century and early 20th century, passports and visas were not generally necessary for moving from one country to another. The relatively high speed and large movements of people travelling by train would have caused bottlenecks if regular passport controls had been used. Passports and visas became usually necessary as travel documents only after World War I
Long before that, in ancient times, passports and visas were usually the same type of travel documents. In the modern world, visas have become separate secondary travel documents, with passports acting as the primary travel documents.
Conditions of Issue a Visa

Some visas can be granted on arrival or by prior application at the country's embassy or consulate, or through a private visa service specialist who is specialized in the issuance of international travel documents. These agencies are authorized by the foreign authority, embassy, or consulate to represent international travellers who are unable or unwilling to travel to the embassy and apply in person. Private visa and passport services collect an additional fee for verifying customer applications, supporting documents, and submitting them to the appropriate authority. If there is no embassy or consulate in one's home country, then one would have to travel to a third country (or apply by post) and try to get a visa issued there. Alternatively, in such cases visas may be pre-arranged for collection on arrival at the border. The need or absence of need of a visa generally depends on the citizenship of the applicant, the intended duration of the stay, and the activities that the applicant may wish to undertake in the country he visits; these may delineate different formal categories of visas, with different issue conditions.
Types of Visas Online
Each country typically has a multitude of categories of visas with various names. The most common types and names of visas include:
Short-stay or visitor visas

For short visits to the visited country. Many countries differentiate between different reasons for these visits, such as:

Long-stay visas

For Long-stay. This type visas valid for long term stays of a specific duration include:

Immigrant visas

Granted for those intending to settle permanently in the issuing country (obtain the status of a permanent resident with a prospect of possible naturalization in the future):

Official visas

These are granted to officials doing jobs for their governments, or otherwise representing their countries in the host country, such as the personnel of diplomatic missions.

On-arrival visas

Also known as visas on arrival (VOA), they are granted at a port of entry. This is distinct from visa-free entry, where no visa is required, as the visitor must still obtain the visa on arrival before proceeding to immigration control.

Transit visas

For passing through the country of issue to a destination outside that country. Validity of transit visas are usually limited by short terms such as several hours to ten days depending on the size of the country or the circumstances of a particular transit itinerary.