The Republic Nigeria Business and Tourist Visa Requirements
Passport Personal Details Scan(Passport must have at least 2 blank pages and be valid for at least 6 months after your intended departure from Nigeria.)
Cover Letter
Invitation Letter( Invitation letter from the Nigerian company/organisation is required. The letter must be on the company letterhead addressed to the Visa Section, Nigeria High Commission. The letter must state that the inviter accepts full immigration responsibilities.)
Corporate Affairs Commission Certificate from Host Company(self-sponsored businessmen may not require a Letter of Invitation but will be required to show evidence of sufficient funds.)
Airline Confirmation
Applicant Photo( 3.5 cm by 4.5 cm photos taken against a light background (white or off - white), UK standard passport photo will be sufficient.)
Entry to Nigeria
International commercial flights resumed in Abuja and Lagos on 5 September 2020, following a postponement from the original date of 29 August. Contact your airline for the latest information.
The Nigerian Immigration Service announced the resumption of passport and migrant registration on 1 July.
Can you get a Nigerian visa on arrival?
Yes, Visa on Arrival is not valid for employment or residence. Your passport must be at least six (6) months valid to apply for Nigerian visa.
What is vaccine required to travel Nigeria?
Yellow Fever vaccine is required if travelling from a country with risk of yellow fever transmission.
More information in the following link:
Which country is visa free to Nigeria?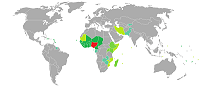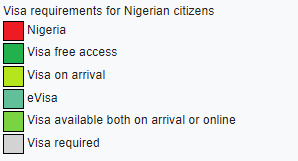 When should I apply to Nigeria eVisa?
Nigeria Visa requires you to apply within 14 days of your intended date of arrival. And also the eVisa has a 14 days validation only. So, However, you can apply with us at any time, as we will automatically queue your order until it's the right time to process your application.