What is a Passport Stamp Page
International Passport Stamp Page
A passport stamp is an inked impression in a passport typically made by rubber stamp upon entering or exiting a territory.

---

Passport stamps may occasionally take the form of sticker stamps, such as entry stamps from Japan. Depending on nationality, a visitor may not receive a stamp at all (unless specifically requested), such as an EU or EFTA citizen travelling to an EU or EFTA country, Albania, or North Macedonia. Most countries issue exit stamps in addition to entry stamps. A few countries issue only entry stamps, including Canada, El Salvador, Ireland, Mexico, New Zealand, Singapore, the United Kingdom and the United States.

---

Australia, Hong Kong, Israel, Macau and South Korea do not stamp passports upon entry nor exit, but issue landing slips instead. Visas may also take the form of passport stamps.

---

Standard passports may contain information such as the holder's name, place and date of birth, photograph, signature, and other relevant identifying information.

---

Multiple types of passports, one nationality: The People's Republic of China (PRC) authorizes its Special Administrative Regions of Hong Kong and Macau to issue passports to their permanent residents with Chinese nationality under the "one country, two systems" arrangement. Visa policies imposed by foreign authorities on Hong Kong and Macau permanent residents holding such passports are different from those holding ordinary passports of the People's Republic of China. A Hong Kong Special Administrative Region passport (HKSAR passport) permits visa-free access to many more countries than ordinary PRC passports.

Border control

Border control officials often place stamps in passports as part of their immigration control or customs procedures.
This endorsement can serve many different purposes. In the United Kingdom the immigration stamp in the passport includes the formal "leave to enter" granted on entry to the country to a person who is subject to immigration control. Alternatively, the stamps activate and/or acknowledge the continuing leave conferred by the individual's entry clearance. Other authorities, such as those in Schengen member states, simply stamp a passport with a date stamp that does not indicate any duration and this stamp is taken to mean either that the person is deemed to have permission to remain for three months or an alternative period as shown on their visa. In Japan, the passport entry sticker also contains a QR code that allows the immigration official to electronically collect information related to that entry.
Most countries have different stamps for arrivals and departures to make it easier for officers to quickly identify the movements of the person concerned. The colour of the ink or the style of stamp may also provide such information. In many cases passengers on cruise ships do not receive passport stamps because the entire vessel has been cleared into port. It is often possible to get a souvenir stamp, although this requires finding the immigration office by the dock. In many cases officials are used to such requests and will cooperate. Also, as noted below, some of the smallest European countries will give a stamp on request, either at their border or tourist office charging, at most, a nominal fee.
International Passport
stamps Page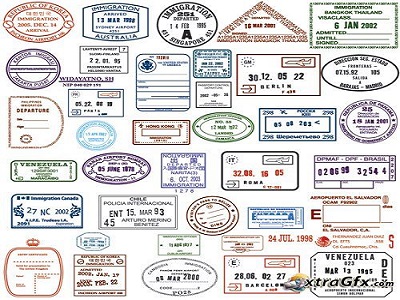 A passport holder and passport stamps page
A passport holder is normally entitled to enter the country that issued the passport, though some people entitled to a passport may not be full citizens with right of abode (e.g. American nationals or British nationals). A passport does not of itself create any rights in the country being visited or obligate the issuing country in any way, such as providing consular assistance.
Learn More