Cape Verde Visa policy map and Visa Eligible Countries Online
---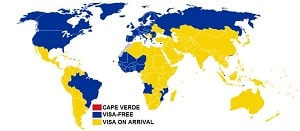 Cape Verde Visa On Arrival
Citizens of the following 61 countries and territories can visit Cape Verde without a visa (but must register online, preferably five days prior to arrival and also pay the airport security fee of CVE 3400 either online or on arrival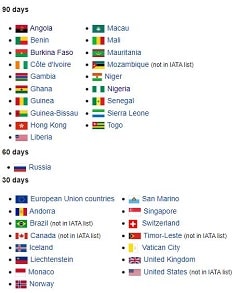 Cape Verde eVisa and how it is Process
All visitors entering Cape Verde require a visa (cost: 40 euros) and a passport that is valid for at least another 6 months after the travel date. As a European or British citizen, you can obtain a visa at the respective embassy or consulate in your country in advance or upon arrival on Sal, Boa Vista, São Vicente and Santiago international airports (the latter is only valid for four weeks). The visa allows you to stay for 90 days. You must enter the country within 180 days after the visa has been issued. Application forms can be submitted via the Internet, fax or mail and are available on the website of the Embassy of Cape Verde.
Cape Verde Visa policy map
30 April 1980: ECOWAS (Economic Community of West African States): Benin, Burkina Faso, Ghana, Gambia, Guinea, Guinea-Bissau, Ivory Coast, Liberia, Mali, Niger, Nigeria, Senegal, Sierra Leone, Togo
1 January 2019: Austria, Belgium, Bulgaria, Croatia, Cyprus, Czech Republic, Denmark, Estonia, Finland, France, Germany, Greece, Hungary, Iceland, Ireland, Italy, Latvia, Liechtenstein, Lithuania, Luxembourg, Malta, Netherlands, Norway, Poland, Portugal, Romania, Slovakia, Slovenia, Spain, Sweden, Switzerland, United Kingdom
February 2020: Brazil, Canada, United States
4 July 2020: Russia
A visa is not required for holders of diplomatic or service passports.
A visa is not required for former citizens of Cape Verde and their spouses and children.
Visitors from all other non-visa-exempt countries except Morocco may obtain a visa on arrival at Sal, Boa Vista, São Vicente or Santiago international airports.
Cape Verde Country?
Cape Verde Country in Africa
Cape Verde or Cabo Verde, officially the Republic of Cabo Verde, is an island country spanning an archipelago of 10 volcanic islands in the central Atlantic Ocean. It forms part of the Macaronesia ecoregion, along with the Azores, Canary Islands, Madeira, and the Savage Isles
Cape Verde
Capital: Praia

Recognised national languages: Cape Verdean Creole

Currency: Cape Verdean escudo

Official language: Portuguese

Points of interest: Pico do Fogo, Buracona, Praia da Atalanta,
Things to do in Cape Verde?
Sal Island in Cape Verde?
Sandy beaches, salt pans and diving spots on largely barren and unpopulated island in Cape Verde.
---
Boa Vista Island in Cape Verde?
Rugged, scenic island known for its wide sand beaches & clear waters, popular with kite surfers.
---
São Vicente Island in Cape Verde
Fishing island with indigenous music, colonial architecture & a beach with a mountain backdrop.
---
Praia Capital of Cape Verde
Praia is the capital city of Cape Verde, which is off the coast of West Africa. The city is on the southern coast of Santiago Island. The old town center, called the "Plateau" by locals, is on a raised area overlooking the Atlantic Ocean. Around the bay, beaches include Quebra Canela and Praínha, both near the Praínha neighborhood. Shops and restaurants cluster in the Achada de Santo António quarter.