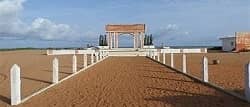 The Republic of Benin
Benin is a small West African country with a rich cultural heritage and diverse landscapes.
Benin, a French-speaking West African nation, is a birthplace of the vodun (or "voodoo") religion and home to the former Dahomey Kingdom from circa 1600–1900. In Abomey, Dahomey's former capital, the Historical Museum occupies two royal palaces with bas-reliefs recounting the kingdom's past and a throne mounted on human skulls. To the north, Pendjari National Park offers safaris with elephants, hippos and lions.
Capital: Porto-Novo
Dialing code: +229
President: Patrice Talon
Population: 11.8 million (2019) World Bank
Currency: West African CFA franc
Official language: French
The Republic of Benin
When planning your trip to Benin, consider the weather and seasons, as well as any travel advisories or requirements. It's advisable to check with local tour operators or travel agencies for up-to-date information and assistance in organizing your trip.
Benin Travel Information
Visiting Benin
Visiting Benin can be a fascinating and enriching experience. Here are some essential things you should know and consider when planning your trip to Benin:
1. Benin Entry Requirements: Check the visa requirements for your country of residence and ensure you have the necessary documents. Some nationalities may require a visa in advance, while others can obtain it upon arrival. Make sure your passport is valid for at least six months beyond your planned departure date. Check Benin Visa Requirments
2. Benin Best Time to Visit: The dry season, from November to February, is generally considered the best time to visit Benin. The weather is more comfortable, with cooler temperatures and less rainfall. However, different regions may have varying climates, so check specific destinations you plan to visit.
3. Benin Health and Safety: Consult your healthcare provider or a travel clinic well in advance to get updated information on recommended vaccinations and health precautions for Benin. It's important to take precautions against mosquito bites to prevent diseases like malaria. Also, exercise caution and be aware of your surroundings, especially in crowded areas and when traveling at night.
4. Benin Transportation: Benin has a network of roads connecting major cities and towns. Public transportation options include shared taxis, minibusses, and motorcycles known as "zemidjans." Private taxis are also available. However, road conditions may vary, so plan your travel time accordingly. Domestic flights are available for longer distances. Transportation in Benin
5. Benin Currency: The official currency of Benin is the West African CFA franc (XOF). Credit cards are accepted in larger establishments, but it's advisable to carry cash for smaller purchases and in more remote areas. ATMs are available in major cities. Benin Currency
6. Benin Language French is the official language of Benin, but various local languages are spoken throughout the country. English may be spoken in some tourist areas, but it's helpful to learn a few basic French phrases or carry a phrasebook for easier communication. Languages of Benin
7. Benin Cultural Etiquette: Benin has a rich cultural heritage, and it's important to respect local customs and traditions. Dress modestly, especially when visiting religious or traditional sites. Ask for permission before taking photos of people, and be mindful of local norms and practices. Cultural Etiquette
8. Benin Local Cuisine: Benin offers a diverse range of traditional dishes. Try local specialties like "fufu" (a dough-like food made from cassava or yam), "akpan" (cornmeal pudding), or "pâte" (a dish made from maize or millet). Don't forget to taste "palm wine," a popular local beverage. Benin Local Cuisine
9. Benin Sightseeing and Activities: Explore the historical sites in Ouidah, including the Route des Esclaves and the Python Temple. Visit the Royal Palaces of Abomey, wander through the vibrant markets of Cotonou, and take a safari tour in Pendjari National Park to see wildlife in their natural habitat. sightseeing-and-ctivities.
10. Benin Voodoo: Voodoo is an integral part of Benin's culture and religion. If you encounter Voodoo ceremonies or sites, approach them with respect and seek guidance from a local guide or expert to understand the significance and practices associated with it. Voodoo Watch Benin Voodoo Voodoo Benin
Benin Top Tourist Destinations
Benin is a country in West Africa that offers a range of diverse and interesting tourist destinations. Here are some of the top attractions in Benin:
1. Porto-Novo: As the capital city of Benin, Porto-Novo offers a blend of historical and cultural attractions. Visit the Royal Palace, which serves as the residence of the traditional ruler of Porto-Novo, and explore the vibrant markets and colonial architecture.
2. Cotonou: The largest city in Benin, Cotonou is known for its bustling markets, lively nightlife, and beautiful beaches. Ganvie, a unique village built on stilts in the middle of Lake Nokoué, is a popular excursion from Cotonou.
3. Ouidah: Located about 40 kilometers west of Cotonou, Ouidah is a significant historical and spiritual center. Visit the Ouidah Museum of History, which showcases the history of the slave trade, and explore the Route des Esclaves (Slave Route), which leads to the Door of No Return—a poignant symbol of the transatlantic slave trade.
4. Abomey: The former capital of the Dahomey Kingdom, Abomey is a UNESCO World Heritage Site. Explore the Royal Palaces of Abomey, which provide insight into the kingdom's history, and visit the Historical Museum of Abomey to learn more about the local culture and traditions.
5. Pendjari National Park: For nature and wildlife enthusiasts, Pendjari National Park is a must-visit destination. Located in the northern part of Benin, the park is known for its diverse range of wildlife, including elephants, lions, leopards, buffalo, and various bird species.
6. Grand-Popo: Situated on the coast of Benin, Grand-Popo offers beautiful beaches, fishing villages, and a relaxed atmosphere. Enjoy swimming, sunbathing, and water sports, or take a boat ride through the mangroves of Mono River.
7. W National Park: Shared between Benin, Niger, and Burkina Faso, W National Park is a UNESCO World Heritage Site and a haven for wildlife. Embark on a safari and spot elephants, lions, hippos, antelopes, and numerous bird species. W National Park by Wikipia
8. Somba Country: In the northern part of Benin, you'll find the Somba Country, known for its unique Tata Somba houses. These fortress-like mud houses with thatched roofs are a distinctive architectural style and provide insights into the local culture. Tammari people
Tanougou Falls Located near the town of Natitingou, Tanougou Falls is a picturesque waterfall nestled in the Atakora Mountains. Enjoy the scenic beauty, swim in the cool waters, and take in the surrounding lush vegetation. Tanougou Falls Watching Tanougou Falls

---

How to Visit Benin

Remember to check travel advisories and requirements before planning your trip to Benin.

Benin eVisa: It is a electronic visa online applicationsSingle Entry (30 days) or multiple entries (30 days), and Multiple Entries (90 days) visa on arrival It allows visitors to visit, enter benin or stay in benin, Single or multiple times, depending on the requested visa type. Benin Tourist Visa Online Benin Visa apply online

Applicant passport: the applicant is simply required to have a passport with at least 6 month's validity with one or two blank pages to receive officials entry stamp. Travel Passport

Citizens of the following 61 countries and territories can visit Benin without a visa: All African countries, Haiti, Indonesia, Israel, Macau. Hong Kong 14 days visa. Singapore 14 days visa. Nationals of China traveling on duty for a maximum stay of 90 days. Visa waiver agreement was signed with Venezuela and it is yet to come into force.

Holders of diplomatic or official/service passports of Brazil, China, Cuba, France, India, Iran (1 month), Italy, Mexico, Russia, South Korea, Switzerland, Turkey do not require a visa.

Visa Policy Visitors to the republic of Benin must obtain either a visa in advance from one of the Benin diplomatic missions or a pre-visa online, unless they come from one of the visa exempt countries
West African country The visa policy for Benin determines who may enter the West African country without a visa and which foreign citizens need a visa for entry to the Republic of Benin.
Applicant passport: in order to apply for an online visa for Benin, the applicant is simply required to have a passport with at least 6 month's validity containing at least one blank page to receive an entry stamp from border officials on arrival in the Republic of Benin.