Map of Kenya Visa Eligible Countries
Kenya eVisa: It is an electronic authorization granted by Kenya Immigration - kenyan government to a eligible foreign visitors, allowing them to enter, remain within, or leave Kenya. Kenya Visa typically can be use for tourist visa, visiting visa and business visa purpose, may include limits on the duration of the foreigner's stay. eVisa Kenya The e-Visa printout must be presented at the Kenya points of entry and exit. Kenya entry visa are exclusively issued electronically, with passengers required to obtain their e-visas before departure. Kenya eVisa allows its holder to visit Kenya for up to 90 consecutive days for touristic, visiting and business purposes. You can apply for single entry and transit visas online.
---
Kenya Visa Application
Applying an Kenya e-Visa is very simple and 100% online. The visa application form should be completed on-line and include a copy of the passport bio page, your international passport must valid a minimum of 6 months before entry Kenya with at least 2 blank pages.
---
Kenya and East Africa Tourist Visa
All travelers intending to visit the Republic of Kenya, the Republic of Rwanda and the Republic of Uganda for tourism are eligible to apply for the visa. An East Africa Tourist Visa is valid for multiple entries within the three countries and is valid for 90 days after arrival. Travelers who use the East Africa Visa program apply and pay a fee online and receive their electronic visa online before traveling to Uganda, Rwanda or Kenya. The e-Visa is an official document permitting entry into and travel within Uganda, Rwanda, and Kenya.
Kenya Tourist eVisa
Kenya eVisa In September 2015, the Kenyan Department of Immigration Services launched an eVisa program, allowing visitors to apply for a visa-online without needing to visit a Kenyan diplomatic mission. Applicants can apply Kenya visa online
---
Citizens of the following 43 countries can visit Kenya with no visa for stays up to 90 days (unless otherwise noted)
---
List Countries for Consular visa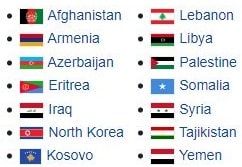 Citizens of the following countries and territories require a visa that cannot be obtained online but instead the application is referred to the Director of Immigration services for processing and approval: